Armoni Istanbul Wedding Card 17018
This fits to you on your special day with quality, workmanship and elegant invitations
It is sold with box.There are 50 pieces in one box.
Envelope and invitation is for the writing sample and display. The invitation will be the articles according to your choice.
Minimum order is 50 pieces.
The invitation is included in the price of accessories. However, the invitation by folding, inserting the accessory or other applications will be made by the customer.
A sample draft will be sent to you prior to printing. We want you to check this draft carefully. If you want any change we will prepare it again and send it to you again. Once you approve, the printing process will begin. Do not panic! Please check carefully. Once start printing, you will not have a chance to fix it. For this reason, check carefully. We will wait patiently.
This invitation is as shown in the picture. If the picture has an accessory or envelope, it will come in the same way. If the envelope does not appear, the product does not have an envelope, it is not needed.
Personalized and printed product for refund is not possible.
We can print in all languages.
We can print in all languages. We have printing services in Russian, Arabic, Chinese, Greek, English, German, Dutch, Swedish, French and all other languages you can think of. If you want to print on a non-English side, please send us a draft as a word or pdf document. In this draft, specify your name, family name, date, time, and address, as well as all of your details.
Countries we send wedding invitation cards
All European country, The Netherlands, Germany, Belgium, Luxemburg, United Kingdom, Ireland, Italy, Spain, Portugal, Denmark, Iceland, Norway, Sweden, Finland, Austria, Liechtenstein, Estonia, Latvia, Lithuania, Poland, Czech Republic, Slovakia, Hungary, Slovenia, Croatia, Bosnia, Serbia, Romania, Bulgaria, Greece, Australia, Canada and US, Middle East Countries, Armenia, Georgia, Russia Federation Countries.
If your country name is not listed? No Panic!
If your country name is not listed, please contact us, we will find an economical and fast shipment solution for you. If you wish to contact us by phone or Whatsapp (+31 6 21 82 47 80), you can contact us by e-mail. Do not worry, we will respond to you very soon.
We wish you a happy life!
We look forward to writing your happiness. If you're reviewing this page, you're taking a very nice step in your life right now. If you order and do not give to our company, we wish you and your soul partner a "eternal life" full of love, excitement, love and respect.
Why is it important The Invitation Card?
Today is the most important and most special day of your life. Invitation, never trashed, passing through the eyes of a piece of paper. Because, after your wedding already there's only you and your partner. Imagine all the remaining objects. As beautiful memories of your life. All objects on this special day, the clothes you wear, the tools selected selected meals, lounge, music and, of course, you must be very special invitations. Invitation to this special moment you already send your loved ones is the most beautiful and special tool.
Would you like to be our dealer?
If you have a company like Advertising Agency, Printing House, Wedding and Invitation organization, you can find it in dealer application. Whenever you are our dealer, you will benefit from our favorable price advantages. If you are out of the Netherlands and have a corporate structure, the tax rate will be "0". You need to fill in the form at the bottom of the page for the dealership application. When you are a dealer, we will send you all the printing services and printing raw materials as a box if you want, or as a container from door to door.

Our 20 years of experience, is based in the Netherlands, Turkey, Dubai, China and all European countries we sell to. We manufacture in Turkey and the Netherlands.
What is special printing
This is wedding card available only for special printing stystem. Special printing is not normal or offset printing.
Special Printing Methods
Hot Foil Printing
Emboss Printing
Special Printing Costs
Cliche is required for special printing. It is a long and troublesome application that requires manual labor.
Special printing is only available on designated wedding cards.
Some special prints are applied on some wedding cards. It is applied to the front and back of some cards, to the card and holster part of some cards, and to the labels and envelopes of some cards.
Some cards and envelopes are also embossed.
These details are clearly visible in the product illustrations.
Application costs are different for each product and are indicated on the product pages.
The specified printing fee will not change in the order of 1000 pieces. You will pay the same fee for 50 pieces or 1000 pieces.
Changing Printing Options
You just need to pick your wedding card and add a basket. If the card you choose is suitable for special printing, the system will automatically add an extra fee. If you want blank and unprinted cards, you will have to go to your basket and choose from options.
No printing fees will be charged for cards that do not require special printing. The printing fee for offset and normal printed cards is our company's gift.
 
Print Samples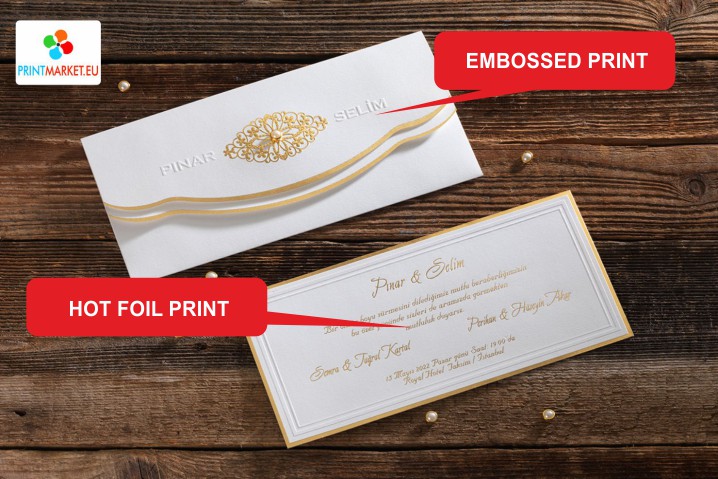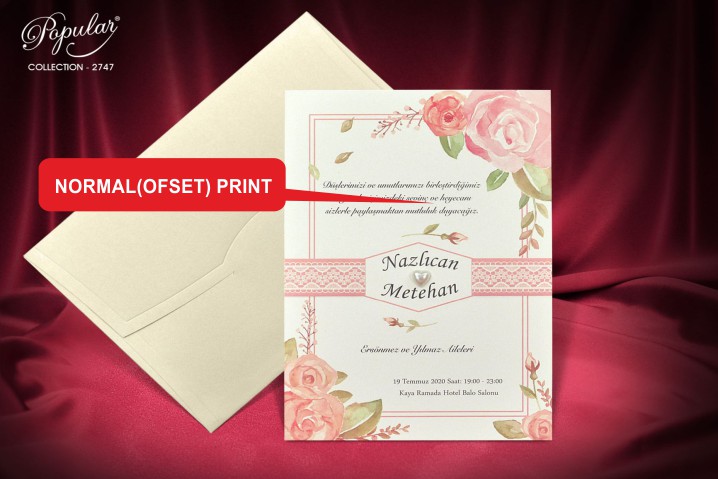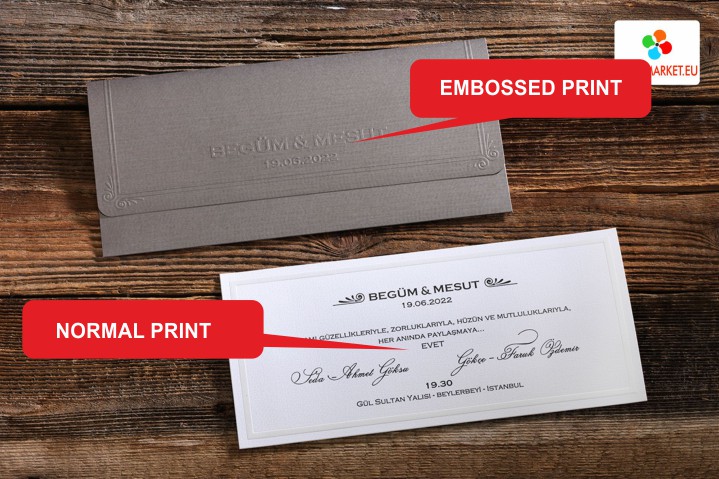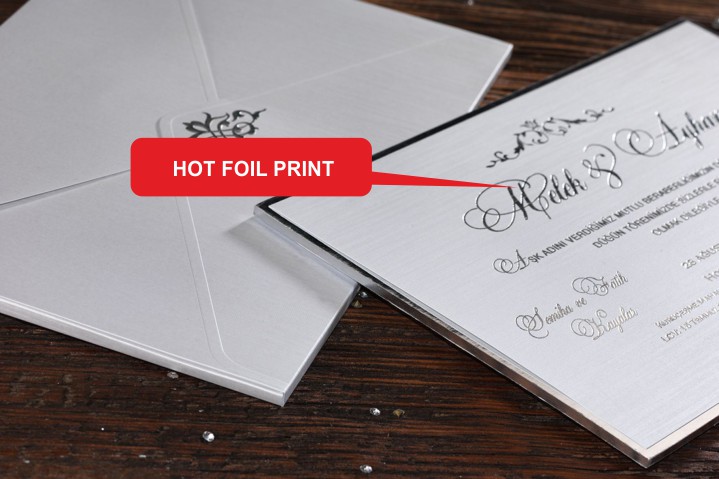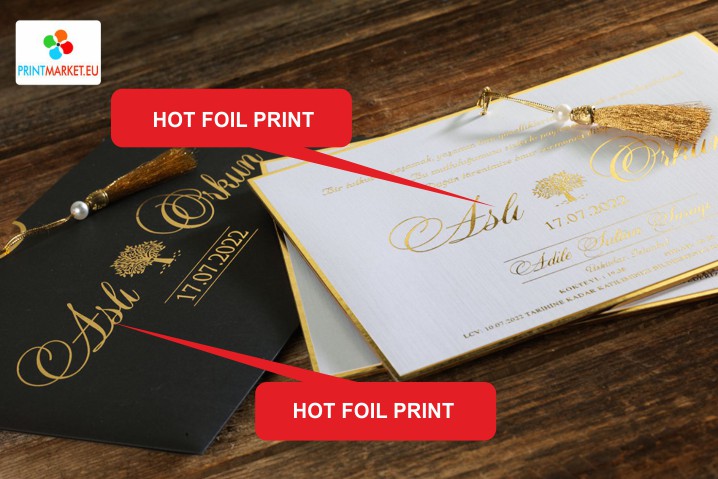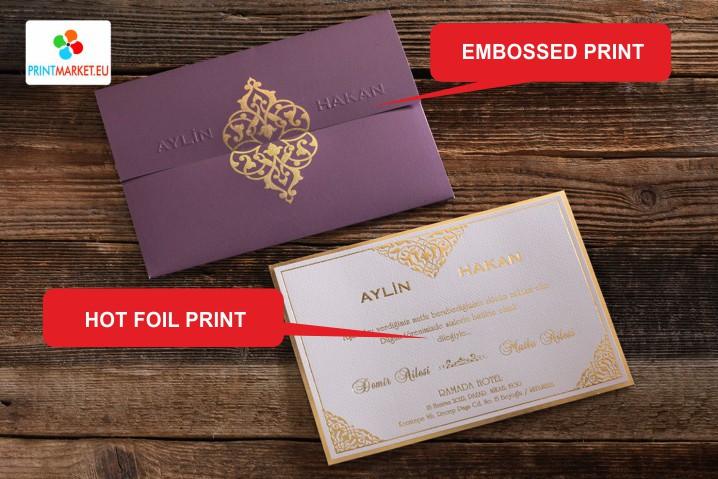 Brand:
Armoni Istanbul Card

Informing of Invitation Printing, Approval and Delivery
Discounts are applied at different rates each month for the invitation model you have selected from our site. You have to write the information on the right side of the invitation you have chosen. If you have already designed this information, you can send us the jpg, pdf or word format. If you do not want to do this, you can also take the picture and throw it through WhatsApp.
HOW TO PRESS INVITATION
In line with the information you share with us, we create a sample template based on the size of the invitee. In order to check all of your information again, we send you the last post before printing via mail or WhatsApp. If you want to check and modify, you need to specify or print approval. Your invitation will not print until print approval is received.
WHAT ORDER QUANTITY MUST BE MINIMUM
The order quantity is minimum 100 pieces and there are 100 invitations in each box. But if you do, we can print out 100 copies and then 50 copies. For example, 250 units, 350 units, 450 units or 750 units. You can not give the intermediate measures from our internet site. On our internet site you can only order in 100 and multiples. If you want to order 50 pieces, you need to contact us.
WHAT IF I HAVE AN ERROR IN THE INVITATION INFORMATION
If there is an error from us, we send it again without asking for any price. However, if the mistake is due to the information you have given and if you gave the consent, we reprint it for the cost. There can be errors in the sequence and graphics. For this reason you need to control very well. Even if it is wrong, the responsibility and reprint price will belong to you if you give your consent.
ABOUT DELIVERY
Your invitation will be delivered to your address by cargo no later than 10 days after you print approval. Sometimes, we can hand over the invitation.
ABOUT PAYMENT
You can pay your orders from our site online via IDeal, Credit Card, PayPal or Bank transfer. If you give your order with whatsap, facebook or phone help, you have to pay by bank transfer. Unpaid orders are not processed.
ABOUT TAX RATE
In our invitation models, 21% tax is applied. However, since all our invitation models are constantly discounted, even if you add 21% tax, you will have a very good price.
YOU CAN TRUST US
Our company has been serving as a raw material and finished product in the field of wedding invitation, printing and stationery products for about 25 years. We have our own brands around the world. In addition to our Dutch office, our offices in Turkey and China have sales stores.
WHERE INVITATION IS COMING
Our invitation models are produced in Turkey, one of the most experienced countries in Europe in the field of printing. Already, many invitation brands in Europe are producing their products as freesia in Turkey. We are happy to serve you with thousands of product types, years of experience, design wonder products. Our company is a company of international scale. By the year of 2018, we will stock all our invitation models in our depot in the Netherlands and create a different brand in the Netherlands.